Plumas On-line Main Page
Plumas County On-line News

News posted by Plumas On-line News on 11/13/2000:

On the Trail of Wild Mushrooms

By Victoria Metcalf
Staff Writer

Borrowing a line from a friend who identifies species of wildflowers, Herman Brown of Greenville said, "I see many friends."

And as he roams the countryside between Greenville and Chester, Brown is searching for friends of his own in his quest for locating wild mushrooms.

Although he has only enjoyed the Sierra mountain range for the past four years, Brown is no stranger to mushroom collecting.

Now a retired electronics engineer from Santa Barbara, Brown said he was curious about the mushrooms he would find in the mountains around his rural home.

In 1983, he decided he wanted to learn more and took a class that not only taught him some of the basics about mushroom gathering, but identification techniques beyond those used by the casual gatherer.

"I credit him (instructor Steve Trudell) with getting me hooked on my passion for hunting for wild mushrooms," Brown said, as his passion has steadily grown over the years.

By 1996, Brown was quite knowledgeable about the wild mushrooms that grew in his native mountains around Santa Barbara. He had even traveled to broaden his working knowledge and test his skills in identifying many genus and species.

His decision to move to Greenville opened up new territories to explore and new mushrooms to find.

Brown said that one of his two daughters moved to Greenville first. Brown and his wife, Cecelia, came to visit with an eye to relocating.

The couple had to give up their national forest home where they had lived for many years. According to Brown, the federal government wanted to reclaim the land on which the cabin stood, and their option was to tear down the home and move on.

Visiting their daughter in Greenville, they discovered they liked the area and the prices, and bought a small, historic home. The first year was spent in remodeling the 1860s home, thought to have been moved in from the community that once existed at Round Valley.

However, remodeling efforts didn't keep Brown from hunting for mushrooms. He was anxious to discover what the native crop had to offer.

While Brown has found a few local folks who know a little about mushrooming-at least which ones have been commonly eaten for generations-he's been a little disappointed that there aren't more who are knowledgeable on the subject.

Mostly, he misses having someone around who knows the area and is interested in mushrooms, to go exploring with him.

"The more you know about the area, the more you find," he said, and that's mushroom-gathering at its best.

Brown confesses he gets totally consumed with gathering when he locates a good crop. Instead of following the rules established in class where mushrooms are to be individually categorized and put into separate, sealable baggies to prevent cross contamination with other species, he tends to put them all into one bag and sort them at home.

The reasoning behind the single-bag theory is to keep the spores from one mushroom from rubbing off on another. When this happens, it could mean misidentification under the microscope when a spore sample is taken.

But, Brown hasn't had those kinds of problems.

Indicating a colorful poster on the wall in his home office, Brown said that many of the varieties shown there are found locally. And he's even found them on his mushroom hunts.

On Brown's first mushroom exploration, "I found 26 and 22 of them were edible."

Since then, he's found pounds of them, some of which he really enjoys with other foods, some he uses dried and steeped in a tea.

Many mushrooms are beneficial, Brown said. And some of those, like the Ling Chi, are found locally.

Brown has also learned there are few professional mushroom harvesters who frequent the region.

He has his eye on a few prime locations for black morels when their season comes due, and plans to be there ahead of anyone else. They grow quickly, usually overnight, so their supplies should be plentiful.

While many have been scared off by stories of people dying from eating the wrong mushrooms, Brown isn't one of them. In fact, he believes in tasting most of the ones he finds.

There are very few poisonous mushrooms, he said. A taste of some varieties may cause a mild hallucination, others may cause gastrointestinal problems, but Brown believes most people who are bothered by mushrooms are actually allergic to all mushrooms, or at least that particular variety.

In gathering mushrooms, Brown first relies on shape, texture, spore patterns and color.

However, Brown doesn't just rely on his books and memory for identification. He also uses a microscope.

Taking small samples of the spores from the bottom side of the cap, Brown puts them on a glass slide and checks the color and patterns in detail.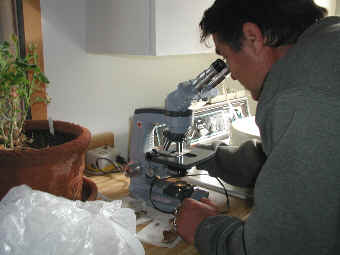 Photo by Victoria Metcalf
Another way of checking is through the use of chemicals, he said.
Brown said he has identified more than 600 mushrooms over the years. These names, or rather the genus and the species, are added to his data base.
While this information is valuable to him, he also shares it with others who are interested in mushrooms.
In addition to a number of mushroom sites now on the Internet, Brown has added his own, along with a newsletter he writes.
The first few issues of the newsletter were sent out to the 30 people who were interested in mushrooming. When he went on line, the information has become widely available, and his actual mailing list has dropped to about 10.
For those who are interested in learning more about mushrooming, Brown's newsletter, "Fungi-zette," is available at www.fungi-zette.com/

---