Twenty-eighth Issue, Spring, 2011
Published about twice a year from Greenville, California
by Herman Brown
herman@fungi-zette.com
Back to HOMEPAGE

Click on any picture to see a larger image
This has been the most unusual spring since we have moved to this area. It seems like it jumped from winter to summer, and at first, even summer didn't look promising. It mostly either rained or snowed continually until summer.
Findings, May 10 - July 1 (top)
Monday, May 10: We just got home yesterday, so with all the catch-up chores, I didn't have much spare time today to go out looking in the forest.
But I did find one small black morel at 4500 feet.
I probably wouldn't have seen it all had I not stopped to observe what looked like a very small agaricus.
There could be lots more morels out there. I just didn't see them this afternoon.
I just need to recalibrate my eyes for morels.
I also found two Gyromitra montana, a few Discina perlata, some of the bright orange Caloschypha fulgens, some Tricholoma sp, and some dark reddish brown mushrooms in a fire ring.
Today it was "few and far between".
The amount snow was pretty sparse, mostly only in the full shade, and should be completely gone by this weekend.
Next time I go out, I will bring an extra pair of eyes.
Tuesday, May 11: Today, both of us went out looking for mushrooms.
The first area was also at 4500 feet, but there was a bit more snow.
There was also lots more Gyromitra montana, various Snow Bank Mushrooms, Discina perlata, and some over-the-hill Hygrophorus sp.
Later we went back to where I had gone yesterday and found a few more G. montana, but still no morels.
We met a woman who was just leaving one spot and she said she saw no morels there at all. I showed her some of the G. montana, and later she left a bag of them by the car for us, over a pound of very large ones.
So today we found lots of the Gyromitra montana, a few G. esculenta, more of the orange Caloscypha fulgens, lots of different snow bank mushrooms, some Hygrophorus sp., a small lily, more Discina perlata, a Discina look-alike, and some deer vomit slime mold.
Most of the picture files are at Wednesday 05-11-11/. The pictures with (Small) added to the file name, are a little bit smaller in size.
I found out that a friend had already been finding lots of morels near the same area. We may have started a few days too late.
Or not.
I think tomorrow we will look a little bit higher.
Thursday, May 14: We picked about 2 1/4 pounds of morels around 5000 ft, so I suspect once we find where they are hiding at 4500 ft., we will do pretty good.
These were in the shade, in draws, but mostly under bushes and piles of logs and sticks.
The ones in the open were a bit old and rare, probably because of previous pickers.
This was on a south-facing slope, so I would suspect a north-facing would be a even better.
Friday, May 15: There was little snow visible at 5200 ft., but it was starting to sprinkle corn snow just before we left.
The biggest and freshest morels there today were barely visible!
We do plan to return there, as we doubled our hourly take today at an old burn site, once we concentrated on just looking under logs and piles of sticks.
And Cecelia spotted most of them!
Saturday, May 16: We were able to get up a different area at 5100 ft. today. Lots of snow up there still. The prescribed burned area just beyond a campground was covered in snow, so we slowly drove back, looking for clear and/or other prescribed burned sites.
The first stop was at a crossing where the was lots of clear ground, and right out of the car, Cecelia found a few gastroid Pholiotas. There we saw lots of the same stuff as before; lots of Gyromitra montana, various snow-bank mushrooms, Discina perlata, Caloschypha fulgens, some hygrophorus, but no signs of any morels.
We then went to a prescribed burn site further down the road, and this time we also found some of the dark reddish brown fire-ring mushrooms.
We then went down along the highway and stopped near another intersection, found more of the same, but did see one pair of tiny morels in the middle of the road.
I probably squashed these when I left.
After a delicious lunch in a local cafe (I had a grilled Portobello sandwich), we explored some of our old faithful spots nearby, and in total saw and mostly left, about 25 morels, all in sunny spots.
The last 4 morels I picked, and these were at another old faithful spot. We did leave about 6 small ones behind.
We have yet to see a Sarcosphaera crassa.
We never needed to stop for the light corn snow, but decided we would concentrate on the sunniest areas up there this weekend.
We also found three Agaricus albolutescens at one of our old faithful spots.
The pickings anywhere may be too slim for a group, but you never know.
We plan to continue going back to a particular fairly new burn area at 5200 ft. during the week, but to mainly check in the moist, shady spots.
Now that we know where to look, we may try to explore some of the other, older burn areas.
The Moonlight fire could still yield something too.
Wednesday, May 18: We went up to the area at 4500 ft today to scout for foray this weekend, and there did not appear to be any added snow.
And it was mostly sunny.
We only saw a few morels at the two places we checked, all in sunny locations. We brought back 3 that were too small to leave behind. Some that we had left 2 days ago, seemed almost ready to pick.
Once it started to get cloudy, we couldn't locate the sunny spots, so we left for home.
However, we still saw lots of Gyromitra montana, Discina perlata, and the orange Caloscypha fulgens. Also saw more pink-tinged hygrophorus.
But another day of sunshine could make a big difference. The recent rain shouldn't hurt.
Friday, May 19: We went up to 5200 ft., to a different spot, and did pretty good.
Most of those were found on the side of a pretty steep hill
Saturday, May 21: We attended the foray this weekend.
The pictures by Hugh Smith, at http://www.hughsmith.org/forays-dz-1.htm pretty much tell it all.
Because there were so many found, we had Cream of Gyromitra montana Soup and fire roasted ones at the Saturday Night Feast, both being very delicious.
The smoked morel spread I made was a hit, as was my pickled King Bolete and olive tapenade.
I think more are picking the G. montana for the table now. I plan to smoke the ones I found this weekend. Note, we have since changed out minds after reading the two articles below these reports.
The morels that the group found this weekend were pretty slim in numbers though. The soil temperature still needs to come up, I think.
Hopefully. a week of warmer weather will make a big difference.
Sunday, May 22: Today brought a few nice surprises. The first was an e-mail from a resident that said he had picked 3 large morels for me, right behind his business here in Greenville.
Is soon as I could, I retrieved 3 very large black morels. I could not see any trees near where he had picked them, as these were found right next to an entrance.
I then called a young friend to check if he was having any luck finding morels where I said we had picked some a few days ago, in a burned site at Antelope Lake.
He said he filled his basket in less than 2 hours.
Later, I decided to see what I could find at the local town park. As soon as I arrived there, I began checking around the pine trees.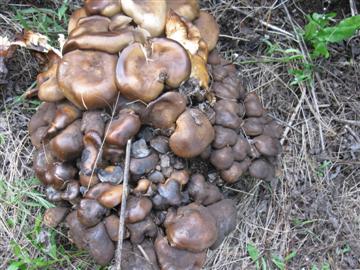 Lyophyllum decastes
Fried Chicken Mushrooms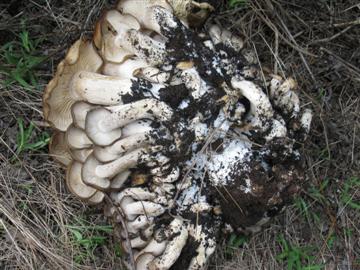 Same, underneath
I didn't see any around the pines, but as I was about to leave, another local friend spotted me, came over, and we began to talk over a fence about our morel finds for this year.
His son looked down and said there were some morels in front of my feet in the tall grass. I looked down and there indeed were 3 of the largest morels I have ever seen, and these were yellow morels, the first ones I have ever seen.
I continued to look around the area in the grass and found 3 more, even larger ones.
So I bought home over 3/4 lb. of the large yellow morels, the Morchella crassipes.
Monday, May 23: We did not look much for mushrooms today, but did find a few black morels at about 5100 ft..
However, just after dinner, the same person who was with me when I found the yellow morels, stopped by to tell me about a large clump of mushrooms he had just found near town.
He had been checking under the same species of trees where we saw the yellow morels, found only one more, but did spot a few large clumps of mushrooms.
He had a few of them in his car, and I told him it looked like the edible Fried Chicken Mushroom, or Lyophyllum decastes, but I wanted to see the whole clump just to make sure.
He drove and then walked me to the spot, which was via about 150 yards along the railroad tracks, and for sure it was the Lyophyllum decastes, at least three clumps of them.
I told him it would be easier to cut some for his bag if we removed a whole clump from under the bushes.
Thursday, May 26: Today I took a late and short trip up to a few of my favorite spots at 4500 ft.
In short, I brought back almost 1 1/2 pounds of morels, some very fresh, and some large but not so fresh.
At the first stop, I only found a few. At the next spot I found some of the oldest, but at the next spot, I found most of them, ranging from 1" to 3". all light brown, all along the side of a small dirt road.
At the third spot, I found a few, pretty fresh, including more light brown ones.
At the last spot which was near where I had seen lots of picking on Saturday, I took a skid trail very close to and along the highway, feeling that it was less used, and sure enough, I found some medium-sized black morels.
I think the morel season will continue up here.
I just smoked some Gyromitra montana using a table-top smoker with some of the chips from our recently removed apple tree.
Monday, May 30: We went up to the burn area again today but found only a few old morels. I think the freeze made a big difference, or we didn't go high enough up the hills.
We had been to a local Fire, and at only one spot, we did pretty good, with a mixture of old and fresh ones, where the freshest ones were in the shade.
Wednesday, June 1: It rained slightly this afternoon, but I went out by myself and managed to pick about a pound of morels. Some were old, some were fresh, the rest were in-between.
Lots of walking however. If Cecelia had only been with me......
Found a collection of very large Verpa conica under a cedar.
Friday, June 3: We picked about a pound of morels today, both old and fresh, but less and less fresh ones after the last storm.
5100 ft. is still pretty snowed in.
Sunday, June 5: Today we took my son-law with us to a different place at around 5100 ft.
He wanted to show us where he had found "tons" of morels recently, and I wanted to check some of our "old faithful" spots.
We found very little for all our walking, and most of what we did find were pretty wet and old.
We need more warmth with less rainy days for a while.
This year, all the early morels we found were in the sunnier locations, so one might want to might look for the sunniest spots first. Most of the early ones we found were under firs.
The soil temperature will still probably be too cold in the shadier spots.
The morel season continues at 4500 ft. It has stopped and started more than once.
It has rained pretty much continually.
Our rain gauge says that we only got 1.28" of rain in the last 24 hours, but it poured like heck on our way back from picking yesterday, However, it was only at about 4000 ft.
I hope this isn't going to happen every year, or we may just have to move to the Mojave Desert.
Tuesday, June 7: It was sunny all day, so after taking care of a few chores, I went up to 4500 ft to see what fungi were appearing.
On the way out of town, I half-filled my small basket with fresh Marasmius oreades.
At 4500 ft., I found 3 medium-sized spring kings in a sunny location and a small one in the shade. I expect more of them to be appearing in the shade by this weekend.
Most of the fresh morels I found today were in the shade. So the fresh morels appear to have moved from the sunnier locations.
I also saw lots of other species I had not seen the year, and in very good shape.
I met a fellow who showed my his nice stash of mostly fresh morels. On the way home at around 5:30 PM, it was 61F. This should be warm and a productive weekend.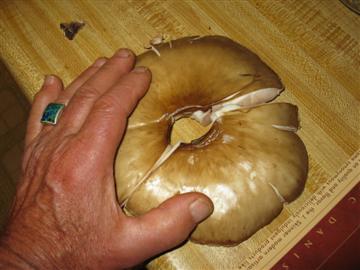 Bigger than my hand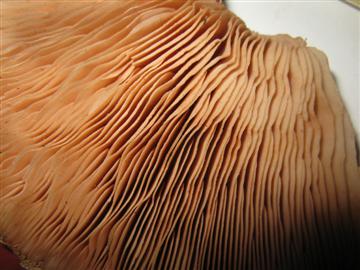 Very pink spore print and very pink gills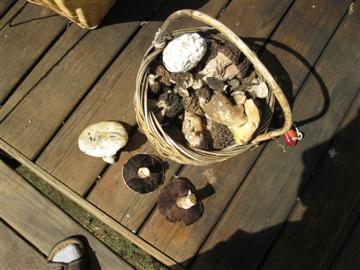 Catch for the day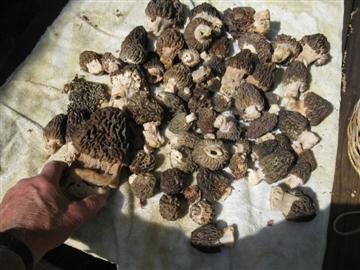 Morels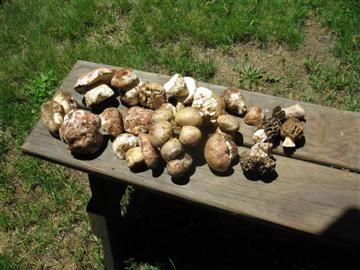 Friday's haul
Wednesday, June 8: Today I was going to go up to 5100 ft., but was delayed by a phone call. A neighbor said she had a big mushroom growing next to her maple stump, and lots of other mushrooms growing elsewhere in her yard.
The "elsewhere" mushrooms were Marasmius oreades, and I filled my small basket with them.
The big mushroom looked like a white Deer Mushroom, which it keyed out to be, if I could assume it was growing out of a root of the old cut-down maple tree.
This particular species I have seem before in Santa Barbara, and it is probably a Pluteus pellitus.
I don't have my microscope to look for the horned cystidia, but I got a good spore print. It was definitely Pluteus looking.

I stopped along the way to 5100 ft. and picked a few morels near the lake, and at the spring, the campground there is still full of snow.
At 5100 ft., one burned area was mostly clear and pickable. There I found a few morels, both new and not new, but all good for the pot, most being in the shade.
There were LOTS of Gyromitra montana scattered about.
Friday, June 10: We went back to a few of our "old faithful" spots and picked over 4 lbs of morels, most pretty large. One tipped the scale at .4 lb.
We picked one small Spring king, but the one I left behind in the shade was not much bigger than when I left it.
Also picked a 4" small Calvatia sculpta and 3 Agaricus albolutecens.
We saw some small fresh spring kings as well as large older ones
Saturday, June 11: Today we went to about 5000 ft, but found very little after lots of walking, Then we went back to 4500 ft. and did pretty well - three few small Spring Kings, and several large morels.
Sunday, June 12: I went down the street this morning to check the deer mushroom spot and found 5 more. I picked the youngest 3 and will cook them in butter to see what they taste like. I am now sure it IS the somewhat rare Pluteus pellitus:
Monday, June 13: We stayed out of the forest today, doing errands and projects.
Maybe tomorrow will still be cool enough to support a fresh morel, and warm enough overnight to get larger kings.
I was having a problem identifying the white deer mushroom and didn't pin it down until I checked Michael Kuo's online Pluteus key, at http://www.mushroomexpert.com/
It turned out to be a Pluteus petasatus. Tasted good too!
Tuesday, June 14: We went out today for lunch and walked around one area for a few hours. The fresh morels we picked were large but few and far between, and were all in the shade. The spring kings we found were still pretty small.
It is hard to predict anything other than there will be lots of competition this year.
Friday, June 17: We went out scouting for a few hours this morning, and we found lots of tiny kings and 5 medium-sized morels (one not shown in photo).
Most were found at one of our "special" spots.
When we went to another area, which we had not checked for some time, we found two kings, one being pretty large, and the other about 4" in diameter. We also found two more morels, "we" meaning Cecelia.
Both boletes were very mushy, and when I cut out the largest one, water gushed out of the stem.
We left both.
It looks like it may have rained up there overnight.
I'm glad we picked the smaller ones, as I wanted some to BBQ on Sunday.
The boletes that were in the shade were the smallest, and all the morels were found in the shadiest areas, very hard to see in the morning.
I have not checked along the highway other than that one spot, for some time.
Saturday June 18: The mushroom season started late this year, and because of the several cold/warm cycles, the morel season seemed to have started and stopped several times.
There was never a bunch of morels to find, except in just a few places.
At least now, the spring king season appears to have begun.
Today, I went out with our young friend Chris Albion, and in a couple of hours, we both did pretty well.
We each found a few large black morels and Chris even found some yellow morels, Morchella crassipes, a surprising first for that area (4400 ft.).
The first few batches of spring kings were pretty small, but we soon found some fairly large ones in the sunniest spots.
Many were in clusters, and most were already exposed.
Chris started noticing that there always seemed to be a Sarcosphaera crassa/coronara nearby, so we began looking for them as a possible indicator.
In most cases, it was.
At the right are a few pictures, one showing a yellow morel in situ, one showing a large black morel with some yellow morels, another showing the odd pairing of the spring king/Sarcosphaera we saw, and one that Chris took of me proudly holding my big morel.
And it was a beautiful day!
Tuesday, June 21: We ran into Loraine Berry picking 3-4" spring kings along the side of the road.
We only found a solitary morel near there, but it was very fresh.
We usually only check our special spots.
It was almost 90 when we left where she was picking.
We went to a burned area at about 4900 ft, and only found one king bolete, but at two spots, we found about 24 total morels, all pretty dry.
We did a lot of walking too.
Weird season.
Wednesday, June 22: I went out today to quickly scout a different area around 4500 ft.
Not many spring kings (porcini) out there yet. The smallest were in the shade, but some of the haul were found still below ground, minimizing fly exposure.
The largest boletes were too wormy to bring home, even for the drier.
I think this may be a meager year for collecting them.
Thursday, June 23: We just got back from a faithful old spot at 4400 ft. We found medium-sized to small spring kings, most all of them worm-free.
It was fun seeing mushbumps in the pine needles again, and most of them were in the cool shade.
It looks like the spring king season is in still going at that elevation.
Just need to find some shade for the freshest ones.
One of Loraine's neighbor found three of what appears to key out to be Boletus abieticola, on the road to her home, under some tall firs.
So we may find some butters the next tie we go out.
Friday, June 24: After a slow beginning , it appears that the mushroom season has finally picked up.
Today we met with Chris Albion at around 4500 ft.
I wanted to recheck our spring king spots again, where he and I had done pretty good about a week ago.
At our first stop, we saw one of the largest boletus mounds we had seen for years.
Under it were three large but fresh spring king boletes (Boletus rex-veris):

We continued on our route, happily picking along the way, and finally we saw a nice batch of large red-capped butter boletes, the Boletus regius.
It seemed to be a bit early for full-sized ones.
As we continued to walk, we saw more kings and pink crowns, the Sarcosphaera crassa/coronara - a royal pair, so to speak.
Around lunch time, we decided we had picked enough for the day. We decided to go out for lunch.
In the way, I stopped occasionally to pick a few kings along the side of the road.
One can never seem to get enough!
At the restaurant, I had my usual delicious grilled Portobello sandwich.
After lunch and on the way home, I decided to check a red-cap butter bolete spot but only found a few buttons.
This area should be in full bloom in a few days.
Another fun and beautiful day!
Sunday, June 26: Cecelia and I went up today to 5100 ft to check for the edible mushrooms that usually grow up that way this time of year.
In the campground, there was still lots of snow patches, and the area had been scraped clean by the camp host for the upcoming weekend, but we saw no mushrooms. We had hoped the fir butter bolete, the Boletus abieticola, would be showing by now.
From there we walked to another bolete spot, and on the way, found a small patch of fresh morels. We continued to search the area for more morels, but didn't see any.
When we got to the bolete spot, we were disappointed to find none, so we returned to the car and drove to our Calvatia sculpta spot. There, we saw several of them, but only the size of a hardball.
We continued from to there to recheck another spot where we had recently found a batch of large morels, and actually found one more.
Close to that spot, we found several Spring Kings, but only at that one spot.
We also found along the side of the road, some tiny B. regius, the delicious butter bolete, but left these to mature.

Wednesday, June 29: Today we went to a few of our 4500 ft. spots to check for boletes again.
At the first spot, we saw a few large butter boletes, but continued to search for smaller ones.
We found enough small ones for the table and on the way to the car, we picked a few medium-sized ones for the drier.
Next, we went to another bolete spot and found several Spring Kings and a few butter boletes, from small to large. Most were firm, and some of the kings still had white pore tubes.
It does not appear that the rain yesterday did much harm to the "crops". Other than make them a bit heavier, it seemed to have actually deterred the flies a bit.
Thursday, June 30: Today we took our bikes to a bike path, picked a few spring kings, and saw lots of the butter boletes. One pair of the butter boletes we saw looked very much like the same B. abieticola we have found for years at 5100 ft., so this would have been my first find at that elevation.
I sent some pictures to Dimitar and he suggested I send the same to David Arora and Jonathan Frank, with together were conducting a study of the butter boletes.
In response, David asked there were still there, could he come to take a sample and pictures.
Friday, July 1: I went back to the same spot get a sample and to see if more had appeared. There were no new ones, so I picked two of them.
David later later sent me an e-mail and told me to let him know when I found some fresh ones again, as he wanted to take pictures of them in the field.
(to be continued, next issue)
Gyromitra montana, formerly gigas: good, bad or indifferent? from Debbie Viess
Normally if a genus is named Gyromitra, I keep it the heck outta my kitchen. But the over-all California consensus has been that Gyromitra montana (formerly gigas) was the exception to the rule: a Gyromitra species that apparently lacked gyromitrin.
But DOES it?
Searching through my literature at hand, the message is decidedly mixed. "A Morel Hunter's Companion" by Nancy Smith Weber, in one of our first popular and scientific treatments of morels and their false-morel kin here in North America, states that "there are conflicting reports on the edibility of Gyromitra gigas." She goes on to say that there may be more than one species involved.
Gary Lincoff in his "Audubon Guide to Mushrooms of North America" lists G. gigas as a "choice, with caution" mushroom, obviously falling on the side of its safe edibility with proper ID, if not generally accepted savory flavor and good texture (remember tho, phalloides supposedly tastes great, too!). But Gary doesn't even get that mushroom back in the East where he primarily hunts.
Kuo sidesteps the whole issue by saying nothing about the edibility of Gyromitra gigas in his recent book, "Morels." I suspect it was more a matter of "I say that they are Gyromitra and I say the hell with them!" After all, Kuo is mostly a edibles fungiphobe, morels notwithstanding.
Dennis Benjamin, physician and toxicology expert, in his fine book "Mushrooms: Poisons and Panaceas" states that "Gyromitra montana...is one of the species that has been eaten for many years in western North America without any obvious toxicity...but a few collections of some of these species [in the G. gigas complex) have been shown to contain traces of hydrazines."
Spoerke and Rumack's "Handbook of Mushroom Poisoning: Diagnosis and Treatment," the finest and most detailed (not to mention expensive) book on the topic currently available, states unambiguously that G. gigas has been proven to contain the serious and sometimes deadly toxin MMH.
So where does that leave us? Up until my recent visit to Oregon and the OMS spring morel foray, I was also recommending Gyromitra gigas as a reasonably safe edible species. But perhaps a bit more caution is warranted.
When I was going through the mushroom collections for the final walk-thru for the foray group up in Oregon, I pulled some lovely fat montana out of the fungal heap and held them up as one of the rare examples of a Gyromitra that I would recommend as an edible. It was immediately obvious that mine was the minority opinion.
Judy Roger, an old friend and a very fine PNW taxonomist, stated vociferously that Gyromitra montana was not a safe edible, and that she herself had been poisoned by it, with the unpleasant GI effects lasting over two days! Others nodded in agreement. She did admit that the mushrooms in question had been gathered on the eastern side of the Cascades, although that is still well within the western states as defined as west of the Rockies.
And finally, of all of the mushroom poisonings that were reported to NAMA over the past 30 years, 9 of them were from Gyromitra gigas/montana harvested in western states (ID, MT and OR).
If you eat this mushroom, and better yet if you like this mushroom, well, you are probably going to keep on eating it. After all, Larry Stickney ate not only gigas/montana but Gyromitra esculenta (responsible for many deaths in Europe), and he lived into his 80s, and did NOT die from mushroom poisoning! But Larry was perhaps the exception and not the rule.
With all of the mixed messages about this species/species complex, you'd best limit those meals and amounts, and cook it well. And if you have never eaten it, well, maybe that blanket condemnation of Gyromitra isn't such a bad thing after all.
Me, I love to find them, they are one of my many springtime fungal friends, but I hardly eat anything fungal anyway, anymore.
Forewarned is forearmed.
Added 06/09/11:
A lot of heat and little light has recently been shed on the safety of eating our California mountain snowmelt false morel: Gyromitra montana. A handful of folks, here and on another local list, have claimed it to be a safe edible species for all, merely because they have eaten it up until now without a problem.
But the downside of a gyromitrin poisoning is not just a bellyache, but the very serious potential for liver damage; it even increases your risk for cancer. Gyromitrin is a cumulative poison; in other words, you can be just fine up to a point, and then become seriously poisoned. It has also been shown in the lab to be highly carcinogenic.
We know that eating Gyromitra species in Europe has caused numerous deaths. But we have shown a good bit of complacency around eating Gyromitras here in California, and along the west coast, merely because we didn't seem to have any evidence to the contrary.
That is no longer the case.
In the past few days I have written most of the major mushroom toxicologists here in North America, and I have received some unsettling news. This whole path of discovery was prompted by hearing Judy Roger tell me recently that she was seriously poisoned by a Gyromitra montana, which definitely shook up MY complacency around this purportedly safe edible.
The most interesting information came from Dr. Michael Beug, who also used to believe that G. montana was a benign mushroom. He doesn't believe that anymore. Here is what he had to say:
From: Beug, Michael
To: Debbie Viess
Subject: RE: Gyromitra montana: toxic or safe?
Date: Wednesday, June 8, 2011

I have a recent case from White Salmon, Washington where a patient is/was in the hospital with liver failure after eating Gyromitra montana. My doctor is trying to get the attending physician to contact me with details but so far no luck.

The toxin is very peculiar in that it is cumulative over a season (but I suspect not season to season) and has no effect at all until a certain threshold dose is crossed. Then there is a narrow range between GI distress and very serious effects.

Also, I spent the week-end before last with Hope Miller and she was telling me about when Orson Miller visited a lab doing research on the effect of gyromitrin on mice. The compound is EXCEPTIONALLY carcinogenic.

I have eaten this species from time to time over the years believing that our Western species were not toxic. They were always well-cooked and always cooked outside to help avoid the toxic vapors released when cooking.

Given what have learned in the last two weeks, I never intend to touch another one again.
Michael also wrote up an essay (included below, with his permission. hab) on this topic, which I added to the files section of our list (BAMS).
It includes a good bit of detail on some recent poisonings and the mechanisms of toxicity.
Debbie Viess
Mushroom Poisoning due to False Morels (to appear in Mycophile), By Dr. Michael W. Beug, Chair North American Mycological Association Toxicology Committee

In the West, three False Morel species cause numerous poisonings each spring. One culprit is Gyromitra esculenta, commonly known as the "Beefsteak Morel". Another culprit is Gyromitra montana, commonly known as "The Walnut" and also known as the "Snow Morel." The third culprit is Verpa bohemica, commonly known as the "Early Morel."

All three species are widely consumed and it is often difficult to convince individuals that eating any of these mushrooms poses a potential danger. However, they all contain toxins that can result in immediate acute illness, even liver damage. So far this year I have had reports of over 54 poisonings by these three species with 12 individuals hospitalized, four with significant liver damage. Symptoms of mushroom poisoning from these mushrooms include nausea, vomiting, bloody diarrhea, abdominal pain, dizziness, headache, muscle cramps, bloating and fatigue. Abdominal pain on the right side and yellow skin from hepatitis and jaundice can occur within 48 hours and are indicative of liver damage. Failure to seek prompt treatment can lead to delirium, seizures or coma. The toxins are also carcinogenic and so pose a long-term threat that will not be immediately obvious.

The confirmed toxin in Gyromitra esculenta and possibly the other two species is gyromitrin which breaks down on heating (or in the stomach) to release monomethylhydrazine, a dangerous chemical used for liquid rocket fuel. It is quite possible that the toxin levels vary from season to season and that during some years the mushrooms pose a greater potential danger than in other years. It is also well established that consuming mushrooms for several meals over a week to a month can lead to problems that would not have been evident had only one meal been consumed. Also a large meal can cause a problem while a small meal might cause no detectable adverse effect.

Finally, consuming any of these mushrooms raw or only lightly cooked is certain to bring on adverse symptoms. Even true Morels can cause illness if not thoroughly cooked. Some individuals cannot tolerate true Morels even when well cooked. Sometimes they can even become sensitive to Morels after years of having consumed them with no adverse effect. A few unlucky individuals will become ill if they drink alcohol with a meal of Morels. Therefore, if you are new to eating Morels, try only a little the first time to make certain that they do not cause upset. You might also consider avoiding alcohol when consuming Morels. If you have been eating Verpa bohemica, Gyromitra esculenta or Gyromitra Montana, it is wise to cease the practice.

True Morels are meaty and delicious, similar in texture and flavor to a fine steak. They are among the choicest of edibles and well worth the effort to learn to identify and consume safely. The other three species are inferior in both taste and texture and so are simply not worth the risk. True morels have a ridged and pitted cap, with the bottom edge of the cap attached to the stem. Cut in half from top to bottom they are hollow with no cottony pith inside. Verpa bohemica has a cap that hangs like a skirt from the top of the stem and when cut in half the stem contains cottony pith. The two Gyromitra species both resemble brains and are very distinctive.
Responses to the essay (2):
From: Hugh Smith
Sent: Jun 14, 2011 10:47 PM
Subject: Gyromitra and Verpa

There is no good bit of detail in this essay.

There is so little information in this that it should hardly be considered. A one page essay on poisonings with 4 mushrooms?

From this article you can't even say it was a Gyromitra.

I have read the paper written by Michael Beug and I would have to say this is a very very vague essay.

Fifty two poisonings in one year, several of which were serious, but still... which mushrooms?

Three of the Gyromitras are lumped together in this article along with Verpa bohemica, and I DO MEAN LUMPED!

The first time I found Verpa bohemica, I mistook them for Morels. I didn't eat them, but I was fooled until comparing them with Morchella.

This could be a very easy mistake to make for many people and is very likely a culprit for sickness. Gyromitra montana look nothing like Gyromitra esculenta and it is doubtful, although admittedly possible that anyone would confuse these two.

Gyromitra californica is relatively uncommon and therefore probably not collected for consumption. And Verpa conica (commonly called Dog Peckers, amongst other names) are commonly consumed in the midwest, yet they are not included in the article.

Anybody can have adverse reactions to any mushroom or any thing,

Chanterelles, Morels, Candy Caps, Boletus, Oysters, and it would be easy to mix in an accidental look-alike. Many things in nature mimic for many reasons.

I'm not saying that Gyromitra montana are not poisonous, because many things we consume are until treated properly.

But this paper should certainly be considered "hear-say" and nothing more.

Read Michael's essay.

Think for yourself.

No offense to you Michael.

Hugh Smith
---
From: Geary Lyons
Sent: Wednesday, June 15, 2011 9:43 AM
Subject: Re: Gyromitra and Verpa

I agree with Hugh. The article paints with far too broad a brush. Where is the evidence and/or supporting research that establishes that Northern California Gyromitra montanas actually have gryomitrin and, if so, in what concentrations?

The article states "The confirmed toxin in Gyromitra esculenta and possibly the other two species is gyromitrin which breaks down on heating (or in the stomach) to release monomethylhydrazine, a dangerous chemical used for liquid rocket fuel." Other than esculenta, not at all definitive, as to the presence of gyromitrin in montanas. What levels, if any, of the toxin, if present, remain after heating to sufficient temperature and duration?

Although the cases of poisoning are sad and frightening, they are anecdotal and poorly differentiated. Which mushrooms cases caused which cases of what severity? What was the preparation process? What was the identification methodology? Which mushroom was the perpetrator, rather than in the assembled line up of the accused?

Since this started as a cautionary condemnation of Northern California montanas, let's focus there. Do Northern California Gyromitra montanas have the gyromitrin toxin? What is the toxin level, if any, before and after proper heating? I agree with "better safe than sorry", but perhaps we are not serving science with the "con" argument, to date.

Cheers, Geary
Added 06/15/11:
From: Michael Beug
To: Herman Brown
Sent: Wednesday, June 15, 2011 2:35 PM
Subject: RE: Gyromitra and Verpa

I expected a lot of heat and I had not seen the responses above. I tried to be clear that gyromitrin has only been demonstrated in G. esculenta. However, reports of Gyromitra montana poisoning from Washington, Idaho and Montana come in from time to time. Because of confidentiality laws, I can never get access to the patient or the mushrooms and am very frustrated by the lack of information and thus lack of precision in my recommendation.

I feel that caution is in order but have no solid evidence. I know of no one who does the testing - but also suspect that the toxin levels, if any, are likely to be highly variable, so a lot of samples would need to be analyzed over numerous years to get a clear answer.

Given the severity of some Gyromitra montana-linked poisonings, I am sure not eating them. However, I cannot prove that misidentification has not reared its ugly head from time to time.
More comments:
From: Debbie Viess
Sent: Thursday, June 16, 2011 1:47 PM
Subject: RE: Gyromitra and Verpa

This sure seems to me to be a case of "when in doubt, throw it out!"

Michael Beug indeed gave his "personal" opinion of eating Gyromitras, including montana, but it was an opinion offered in light of new evidence, and coming from a long-time mycophagist and scientist who also used to eat G. montana. His negative opinion of the ingestion of Gyromitra species is not merely based on the palatability of the mushroom (taste is, of course, beside the point of its potential toxicity) but based upon a reasonable concern about recent reports of serious Gyromitra montana poisonings.

The recent poisonings are not of the transient, belly-ache/diarrhea "usual few who might get sick from any mushroom" but symptomatic of the far more serious, neurological and hepato-toxic gyromitra poisoning, which at its worst can and has resulted in death.

As has been stated before here and elsewhere, when gyromitrins are involved, your ability to have a safe and delicious meal is both dose and eater dependant... individuals that can more quickly acetylate the toxin MMH (genetically determined) may be able to eat them safely most of the time, but again only up to a point, since the toxins are cumulative. Unlike most other toxins, there is no direct dose to response relationship; a small increase in ingested toxin can cause an asymptomatic Gyromitra eater to become seriously ill or even die.

We can also agree that, according to most reports, it would appear that Gyromitra species here in California are by and large less toxic than those found in other places, but we really don't know exactly why that is, nor what the base level of toxins are in the mushrooms found in this state. Special preparations (drying, long cooking with good ventilation) can remove most but not all of the toxins. You can also be asymptomatic after a meal and still increase your risk of cancer. As to whether G. montana even contains gyromitrin has also been debated.

"The Handbook of Mushroom Poisoning, Diagnosis and Treatment" on page 281, Table 1, lists 9 species of North American Gyromitra and whether or not they have been lab tested to contain gyromitrins: G. gigas (montana) was listed as proven to contain this toxin. It would be great if somebody would do a rigorous study of the range of toxins found in various Gyromitra populations in the West, but up until this point in time, it hasn't happened. If somebody has access to a lab and the time and skills, we'd all like to see that study. But in lieu of a study, can we really safely assume that there is no problem?

Here in the western states, in the past several weeks, Marilyn Shaw reported a serious Gyromitra montana poisoning in ID, after a woman made a second meal of them a few days later (being asymptomatic the first go round), and another in Washington state, reported here by Dr. Beug. Judy Roger from Oregon also reported to me that she recently became seriously ill after eating a properly cooked and identified G. montana from the eastern side of the Cascades. All of these folks are serious mycologists and well familiar with toxicology and mushroom preparation.

The NAMA case registry of mushroom poisonings over the last 30 years lists 9 incidents of serious poisoning with G. montana/gigas, and 23 with Gyromitra unidentified to species, in addition to 27 for G. esculenta and one for G. brunnea.

For comparison sake, during the same time period, there were 52 poisonings reported for Amanita phalloides and 109 reported for Amanita muscaria! All of these can be assumed to have been under-reported, and the current medical practice of extreme patient confidentiality has certainly harmed our ability to track down and gain knowledge from these sorts of poisonings.

Annie made a telling remark on this list when she commented on the Gyromitra controversy. She said that various folks claimed them to be edible, but then didn't eat them! That speaks volumes to both her and I. Another list had a P/T Chef claim that he and a bunch of professional Chefs ate and enjoyed these mushrooms recently, therefore, no problem for the rest of us! California is a hotbed of extreme cuisine, and folks can take their culinary risks where they chose. But I'd lay money that none of those bold chefs served Gyromitra to the public at their restaurants! So what's the point of all this? To present to you the whole truth, warts and all, about the potential risks of eating any Gyromitra species.

Would you feed them to your children? Your Granny? Your DOG??!

I wouldn't.

Debbie Viess

From: Hugh Sandi Smith
Subject: Re: Gyromitra and Verpa - Hearsay or Proof?
Date: Thursday, June 16, 2011, 2:29 PM

Debbie, you state that:

"The NAMA case registry of mushroom poisonings over the last 30 years lists 9 incidents of serious poisoning with G. montana/gigas, and 23 with Gyromitra unidentified to species, in addition to 27 for G. esculenta and one for G. brunnea."

Over 30 years?

Dr. Beug states there was 52 in a year, all from the Gyromitra genus OR Verpa of one type.

Well, which is it, your report or his report?

And what about this? "serious Gyromitra montana poisonings."

What serious Gyromitra poisonings?

Him and Judy? The 9 over 30 years? What about the 52 over a year?

All of the others, according to Michaels' essay don't say or prove Gyromitra montana whatsoever.

When in doubt, don't publish.

Hugh Smith

From : David Rust
Sent: Thursday, June 16, 2011 3:42 PM
Subject: Re: [BAMS] Re: Gyromitra and Verpa - Hearsay or Proof?

Hugh,

I think you're protesting too loud. You are letting personal preference, i.e., this is a mushroom that you ate and enjoyed, sway your opinion of this mushroom.

The number of poisonings reported to NAMA can be extremely small compared to the actual number of people who were adversely affected by ingesting a mushroom that may contain a toxin known to cause illness. Plus, it is known as a cumulative toxin.

Yes, I tried this mushroom once or twice in a season. I felt no ill effects.

Does that make it safe? Were the mushrooms I ate, or the ones someone ate in a different part of the country, tested for levels of toxins, or is the number of people who 1) reported illness vs. 2) people who ate the mushroom and did not report illness, make a scientific justification for going ahead and eating something because it's tasty? Or does the difference between 1) and 2) make it a "safe" mushroom to eat?

The problem with making a decision like this is, as you say, unproven by science.

We do not know the levels of toxins in mushrooms. It would be helpful to have a simple litmus test, a drop of liquid on the cap indicates X level of toxin or no toxin at all. It is only when people report gastrointestinal problems, require hospitalization, or even die from eating a particular species do we take notice.

The Poison Control folks do keep statistics. I've asked them for more information about Gyromitra montana incidents. Meanwhile, I think we need to ask: if a mushroom makes one even person sick, is it safe for me to eat, and what exact toxin in the mushroom caused the illness? Even if I eat that same mushroom and feel no ill effect, did the toxin in that mushroom, at whatever level in the one I ate, affect my internal organs and overall health?

David Rust
Featured Mushroom, the Gyromitra montana (top)
This was one of the favorite mushrooms served at a foray dinner this spring, but after reading the above, many of us have decided to avoid eating it.
More information and images at Mycoweb: http://www.mykoweb.com/CAF/species/Gyromitra_montana.html