Special Issue
Breitenbush Wild Mushroom Conference
October 23-27, 2002
herman@fungi-zette.com
Back to Breitenbush Conferences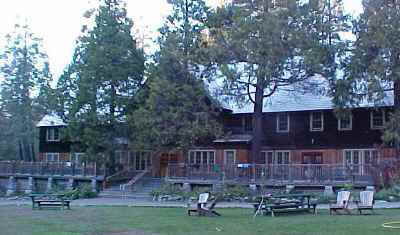 The Breitenbush Lodge
Encouraged by comments from our friend, Maggie Rogers, this fall we drove to Oregon to attend the 17th (or 18th?) annual Breitenbush Wild Mushroom Conference, which is held at the Breitenbush Hot Springs, located near Detroit Lake, east of Salem.
By the end of the weekend, we had seen lots of mushrooms, met several interesting and friendly people, made many new friends, and learned lots, besides enjoying the splendor of the beautiful surroundings. Many of the mushrooms we saw were new to us, and we were able get a taste of some of the choice edibles for our first time.
And I found my first Matsutake!
---
The following pre-conference information was taken (and later modified to include some later schedule changes) from Charmoon Richardson's web site, www.wildaboutmushrooms.net, originally written by Patrice Benson:
Enter the ancient forest at Breitenbush Hot Springs Resort. Gather with other mushroom enthusiasts to enlighten your senses with the beauty and splendor of the tastes, smells and sights of the forest fungi. Those gathered to teach about the flavors, secrets and beauty of the mushrooms include many experts in a variety of aspects of the mushroom. Look closely at the incredible features of the physical characteristics of the fungi as you explore their habitat during the guided mushroom walks. Take the fleshy gifts of the mushroom organism back to the skillet of the incredible mycochef and taste the unique flavors of the many edible fungi.

View the stunning results of the world traveling mushroom photographer as you relax during the evening presentations of the beauty and taxonomy of the members of our Fifth kingdom. Soak in the hot waters and let your mind unwind as you remember the beauty of the mushrooms that you found in the lovely old-growth forests surrounding Breitenbush.

There will be books and mushroom mementos; lectures, walks, and demonstrations. There will be a mushroom display featuring the fungi gathered and categorized to let you study and admire the specimens. Learn their names from the expert taxonomists and enjoy the companionship of other mushroom admirers both new and experienced. Mushrooms are used medicinally in many cultures and you can learn the various medicinal uses from our mycologist professor. Perhaps dying wool and silk with fungi may interest you; you can learn about this and other non-edible uses of fungi.

Grow your own fungi with the mushroom kits we will make! The cooking and tasting events will celebrate the flavors and special aromas of the many edible fungi that will be gathered fresh in the area surrounding Breitenbush. Try your hand at mushroom preparation by assisting the chef at the tasting events. Then take your treasures home to share the secrets and flavors of the wild mushrooms again. The skills and information that you will take from this conference can be the basis of a wonderful and fascinating facet of your life.

Breitenbush Mushroom Conference Schedule
October 24-27, 2002

4:00-6:00 PM Check in at the Office after parking. Unload bags after check in and cabin assignment.

6:00 -7:15 Dinner

7:15 Breitenbush Resort Orientation. Breitenbush Staff

7:45 Introduction to Mushroom hunting. Receive Fieldtrip details. Patrice Benson

8:15 Introduction to Identification of Mushrooms. Paul Kroeger

8:00-9:00 Breakfast

9:15 Gather in front of Lodge to form car pools and proceed to guided field trips

1:00 - 2:00 Lunch

2:15 - 3:00 Mushroom Cultivation: Lecture inside, followed by demonstration and construction of mushroom farms in the Pavilion. Patrice Benson and Charmoon Richardson

3:00 - 3:45 Mushrooms and Forestry in China. Dr. Mo-Mei Chen

4:00 - 5:00 Mushroom Dyeing: Lecture and Demo. Maggie Rogers

5:00 - 6:00 Mushroom I.D. from the collection. Paul Kroeger and Dr. Nancy Smith Weber

6:00 - 7:00 Dinner

7:30 - 8:30 Ecology of Hot Springs. Paul Kroeger

8:30 - 9:15 Eastern Medicinal and Culinary uses of mushrooms. Dr. Mo-Mei Chen

8:00 - 9:00 Breakfast

9:30 - 1:00 Guided field trips: Gather in front of lodge to form carpools and link w/guides

1:00 - 2:00 Lunch

2:00 - 3:00 Mushroom Books and other good things. Maggie Rogers

3:00 - 4:00 Mushroom Cooking and tasting of Chinese medicinal mushrooms, in the Pavilon. Dr. Mo-Mei Chen

2:00 - 4:00 Mushroom I.D. Led by Paul Kroeger and Dr. Nancy Smith Weber at the mushroom display area. Workshop style.

4:00 - 6:00 Mushroom Cooking and tasting in the Pavilion. Chef Michael Blackwell. Helpers are welcome at 3:00.

6:00 - 7:00 Dinner!

7:30-8:30 A Multitude of Fungi on 1/4 Acre: Continuing Study. Dr. Nancy Smith Weber

8:30 Treasurers from The Kingdom of Fungi. Taylor Lockwood (the term "musical slide show " does not even remotely describe the magnificence of this form of mushroom performance art)

8:00 - 9:00 Breakfast

9:00 - 1:00 A tour of the mushrooms on exhibit: Paul Kroeger and Dr. Nancy Smith Weber

1:00-2:00 Lunch

Distinguished Faculty includes:

Dr. Mo-Mei Chen, trained at Beijing Agricultural University, at the Chinese Academy of Forestry, China, is a Professor of Plant Pathology and Mycology. She taught Forest Mycology and conducted research for Tottri Mycological Institute, Japan, on Shiitake production. She is affiliated with UC Berkeley, and the UC Forest Product Laboratory and Jepson Herbaria. She has been teaching in Berkeley for 8 years and is a member of the American Mushroom Institute.

Paul Kroeger, President of the Vancouver Mycological Society and the Pacific Northwest Key Council, will be our conference mycologist. Well known for his taxonomic skills, Paul is also an expert on the flora and geology of Hot Springs. With more than 20 years experience identifying mushrooms in the Pacific Northwest, he is respected for his identification and teaching abilities.

Dr. Nancy Smith Weber, courtesy Professor at Oregon State University, received her doctorate in Mycology from University of Michigan. Her training was received from birth from her her father, Alexander Smith, also the father of North American Mycology. Dr. Weber's specialty is the Ascomycetes which include the tasty Morel. She will be reporting on her current project "Fungal Diversity in her 1/4-Acre Backyard." Dr. Weber is the author of "A Morel Hunter's Companion". She is working on an expanded edition which will include Western North America.

Patrice Benson is a past President of the Puget Sound Mycological Society, and is currently Vice President of PSMS and The Stuntz Foundation. The conference coordinator for this event, she embraces the mission to help all levels of mushroomers learn and enjoy their experience at the Breitenbush Mushroom Conference. The goal is to provide a diversity of mushroom events, expertly guided field experiences, and fun and tasty social activities.

Taylor Lockwood, mushroom photographer, scientist and musician, combines world travel with mushroom photography to produce an unforgettable mushroom photo musical experience. His wish and purpose is to inspire others into deeper appreciation of this special part of the natural world.

Michael Blackwell, Corporate executive Chef and mushroom cooking expert, will delight you with a mushroom cooking and tasting experience in a style which will inspire you to forever love the tastes of mushrooms. A research chef, Michael is past President of the Pacific Northwest Conference on Food and Wine, and a chef instructor at North Seattle Community College.

Maggie Rogers has co-edited MUSHROOM THE JOURNAL OF WILD MUSHROOMING for 19 years.

Maggie is an expert instructor of fungal arts and crafts including the art of dyeing with mushrooms. She is an avid mycological bibliophile and markets previously owned mushroom books as Fungal Cave Books. She has treasures and will share them. Maggie has mushroomed in Siberia, Scotland, England, Finland, and many U.S. areas, and is still alive.
Thursday: After being on the road for two days, we finally arrived at the resort at about 2 p.m. We had heard that most of the entire state of Oregon had experienced one of the driest spells in years, and noticed that Detroit Lake was frighteningly low. However, we had no expectations other than having an enjoyable time.
After checking in, we carted our belongings to our cabin. The cabin was small but adequate. Ours included a bathroom, a sink, and was heated by radiators heated by water from the underground hot springs. Actually pretty cozy. On the way out, I noticed what looked like an Agaricus under a mound right next to a tree in front of the cabin, which I decided to check later.
While later taking short hikes on some of the many trails around the area, we only saw a few different species of mushrooms, but left them in case the trails were to be included in the later forays. Some we saw were finally identified as Angel Wings (Pleurotus porrigens), Agaricus praeclaresquamosus, a few Honey Mushrooms, and many Gomphidius oregonense.
The vegetarian dinner that evening was delicious and filling, and the talk and slide show that evening by Paul Kroeger, provided us with enough information to later identify the mushroom I found under the tree at the cabin as a Matsutake or Pine Mushroom (Armillaria ponderosa), the first one I had ever seen!
Click on any picture to see a larger image
Friday, the First Foray: After breakfast, we all gathered at the front porch of the lodge and formed into 3 groups to go on our first foray. Cecelia and I decided to go with the group that was going to walk on one of the trails that started just behind the main lodge, which was named the Gorge Trail. We had already scouted part of this trail the day earlier, and had only seen a few species there, which included the Honey Mushrooms. We figured the group would find much more.
Paul Kroeger also came along with this group, and provided us with gobs of information about the different mushrooms we saw as well as about many of the plants and trees, something that proved to be very useful when later trying to describe the habitat of the mushrooms we gathered.
Here are a few of the ones we saw that day, and which were later identified by Paul et al:
Click on any picture to see a larger image

Conifer Tufts (Naematoloma fasciculare
in the roots of a downed conifer)
Page 2, the First Foray, continued >